Fixed Seat Rowing
Fixed seat rowing takes place in traditional, wide boats with fixed seats that can be rowed on different bodies of water across the country
Fixed seat rowing has been present as a form of transport ever since humans first started travelling vast areas of water, from the Romans to Watermen taxing passengers across busy rivers.
Today, fixed seat rowing comes in many forms with rich historical meanings to many local communities. The movement you perform and the amount of people in a boat vary on the type of boat you take part in with some boats requiring rowers to use one oar, some two and some a mixture.
One of the largest groups of fixed seat clubs in the UK is The Cornish Pilot Gig Association (CPGA), a voluntary-run body which was created in 1986.
Types of Fixed Seat Rowing Boats
Here are some of the traditional fixed seat rowing boats used across the country.
Cornish Pilot Gig – Traditional and GRP (fibreglass)

Based on the original design by William Peters of St. Mawes of the gig 'Treffry', built in 1838 this is for six rowers and a passenger.
The CPGA strives to preserve the traditional values of the sport, ensuring that each new gig is built to strict standards. The modern gig is a speedy boat, ideally built from narrow leaf Cornish Elm – 32-feet-long and 4-feet-9-inches wide, fastened by copper nails. Today's gigs are no longer working boats and are used purely for pleasure and racing around Cornwall and the West Country.
The GRP gig is a direct copy of a Cornish Pilot Gig and used by almost all CPGA clubs as a training boat. Although heavier, it is cheaper to construct and more forgiving for maintenance. The GRP Gigs are not permitted to race under CPGA rules.
Harker's Yard Gigs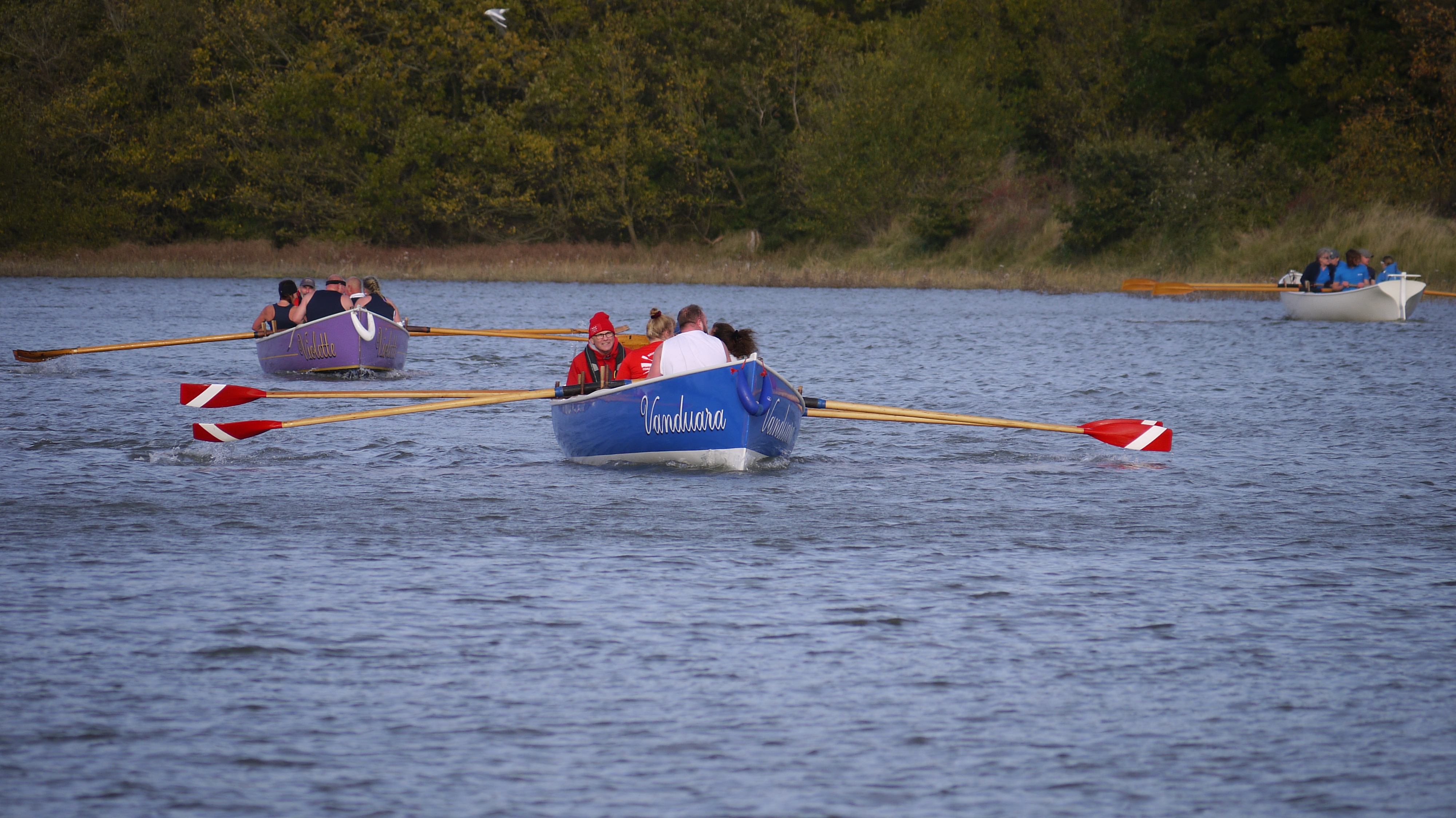 Four oar and coxswain fixed seat Gigs based on a traditional 19th Century design and revised for 2011 production. Construction is cold moulded wooden or GRP material and built by the Pioneer Trust in Brightlingsea Essex.  Used in social and competitive environments alike the Harkers Yard class is a rapidly growing sport attracting people of all ages.  There are currently 20 gigs owned by 11 rowing clubs around the East Anglian coastline.
Longboats - Pembrokeshire and Celtic

A four-oared, fixed seat boat made of plastic built for racing, training and recreation. They are mainly used in Wales by clubs along the coast as part of the Welsh Sea Rowing Association.
Racing in longboats originally began in 1978 by Tom Sutton after racing in a re-skinned Irish Curragh. The experience racing in this led him to build a fibreglass version of the longboat and the Celtic Longboat was born. These boats are now built by Dale Sailing who have built over 35 boats to date.
Skiff Wherry (Skerry)

A Wherry is a type of boat that was traditionally used for carrying cargo or passengers on rivers and canals in England. They are mostly associated with the River Thames and also with the Broadland rivers of Norfolk and Suffolk. They are rowed by up to eight people with a coxswain to steer. They also have space for up to three passengers.
The Skerry was designed by Mark Edwards MBE who notably built the famous Gloriana, which led the flotilla in the Queen's Diamond Jubilee Pageant in 2012.
St Ayles Skiff

A relatively modern type of fixed seat boat with the first boat being built in 2010 in Scotland. The boat is a four-oared, fixed seat, wooden boat with a coxswain. The St Ayles Skiff is rowed mainly as a sweep boat, one oar per person, although it can also be sculled, with two oars per person.
The boat was designed by boat builder Alec Jordan of Jordan Boats who was inspired by the Miners' Rowing and sailing regattas in East Wemyss where he used to live. Communities build the boats themselves to help reduce the cost while bringing the local community together through its production. Kits can be purchased and built generally over a period of six to twelve months.
There are now over 150 boats completed or in production in the UK with more being made around the world including the United States, Canada, Netherlands, Australia and New Zealand.
Surfboat

A surfboat contains four rowers and a steersman. The boat was first introduced to the UK in 1965 from its origin in Australia.
The first Surfboat was built in 1913 for the Manly Surf Life Saving Club as a means to rescue drifting bathers. By 1920 Surfboat competition had developed to such an extent that it was included as an event in the Australian Life-Saving Titles.
The Surfboat design specifications were formally drawn up in 1955 and although new construction methods have been introduced, the dimensions of the modern Surfboats have changed little since then.
More boats followed in the 1970s with Surf Boat racing being born soon afterwards. A UK Surf Rowing league was formally created in 1999 but has been less active since the pandemic.
Thames Skiff

A Thames Skiff is a traditional, clinker-built wooden boat of a design which has been seen on the River Thames and other waterways in England and other countries for nearly 200 years. The Skiff Racing Association being formed in 1901.
Skiff racing is kept alive by a small number of enthusiastic clubs, mostly based on the Thames, who organise regattas, long-distance races and tours.
Thames Waterman Cutter
The Cutters are 34 feet long with a beam of 4ft 6ins and can be rigged for up to six oarsmen plus a coxswain for either sweep rowing (one oar) or sculling (two oars). The boats are robust, stable and fast and can be rowed at home on the tidal or non-tidal river or sheltered coastal waters. Their adaptability makes them ideal for all standards and ages of rowers allowing the coach to be aboard for training sessions.
The modern-day Waterman's Cutter is a design based on drawings of boats used by the Watermen of London in the 1700s. In the 1980s the organisers of the Great River Race developed the modern day boat and produced the first of a fleet of 24, many of which now compete annually in this marathon of the river.
Trinity 500

A four-oared, fixed seat boat which is largely used by the Sea Cadets, made of plastic. Because of the design, it is ideal for younger children.
Hire rowing boats
If you fancy having a go at rowing you may find a local hire boat company near you. Hire boats can be found in many locations around the country where there is suitable water.
Hire rowing boats are usually fixed seat and very large, making them more stable in the water.
Hire rowing boats give everyone that chance to have a go at rowing and enjoy the country's waterways from a different perspective.