Hosts Wales show stunning form to take Home International Rowing Beach Sprints trophy
On a beautiful summer day in Saundersfoot, Wales, the hosts took home the Beach Sprint trophy for the first time at the second Home International Rowing Beach Sprints (HIRBS)
The four traditional home nations of England, Ireland, Scotland and Wales were joined for the first time by Jersey, who competed for individual medals but not the team trophy.
The morning saw time trials, followed by the finals for the Senior Mixed Doubles and Junior Mixed Double. Jersey started off their HIRBS campaign in stunning form as Sarah Earles (Jersey RC) and Hylton Harvey (Jersey RC/Leander Club) beat Wales to the buzzer by only two seconds after defeating England in the Semi Final.
The Junior Mixed Double saw Wales come away with their first win of the day. Menna Sutton (Royal Grammar School Worcester RC) and Twm Owen (Agecroft RC) took victory over England (Leah Saunders (Evesham RC) and Fergus McKeown (The King's School Chester RC)) by four seconds.
The next final of the day saw another win for Jersey as Natacha Searson (Jersey RC/Tynemouth RC) came away with a victory in the Women's Solo after a dominating the time trial and semi before beating Miriam Sheehan (Castletownbere RC). In Men's Solo final, Welsh Team Captain Jerry Owen (Fishguard and Goodwick Jemima RC) finished four seconds ahead of Jersey's Chris Thompson (Jersey RC).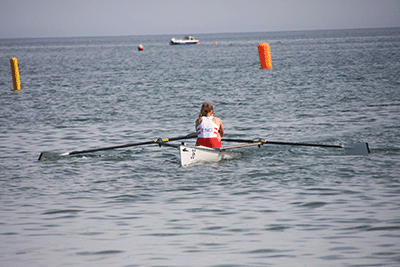 Moving onto the Junior solo finals Evelyn Pakule (Lea RC) of England came away with a strong lead in the time trial securing a direct spot to the A final in the Junior Women's solo. In the final Evelyn faced off against coastal newcomer Katie Hale (Royal Shrewsbury School RC) of Wales, securing England's only victory of the day. The final race of the day saw Eoin O'Connell (Lee RC) beat Wales's Joshua Port (Mumbles RC) to take home Ireland's sole win of the day.
Wales's total of two victories, three second and one third place was more than enough to secure their first place position for the overall trophy on home sands and waters, finishing with an overall points total of 19 points. This is only the third time Wales has won a Home Nations rowing trophy.
"It was an absolute honour to host the second Home International Rowing Beach Sprint Regatta in Saundersfoot. Not only is it a fantastic location but we had the full support of the local community who ensured that all our guests and athletes, received a warm Welsh welcome," said Sam English, Match Director for Welsh Rowing. "The team of volunteers we have in Wales are truly world class at what they do, we are forever grateful as events like this don't happen without them. Special thanks to Andrew Richards and his team at Saundersfoot Sailing Club."
With the beach sprint format having being added to the programme for the 2026 Commonwealth Games, all nations are hoping that the issues surrounding the staging of those Games matters can be resolved so that beach sprint racing will still take place in three years' time.
Overall Points Table
| Nation | Points |
| --- | --- |
| Wales | 19 |
| Ireland | 13 |
| England | 12 |
| Scotland | 8 |
Nation:

Ireland

Points:

13
Nation:

England

Points:

12
Nation:

Scotland

Points:

8
Team Lists