GB Women's coastal double wins gold at inaugural Coupe de la Jeunesse Beach Sprints
Summer Harlow and Leah Saunders dominated their event at the first Coupe de la Jeunesse Beach Sprints, staged in Donoratico, Italy from 22-24 September
The competition was packed into a single day on Sunday, 24 September after racing had to be cancelled on the Saturday because the sea was too rough even for wave-loving beach sprint rowers. This led to a hectic schedule for the six members of the GB team, who all doubled up.
Summer Harlow (Exeter RC) and Leah Saunders (Evesham RC) began their campaign in the Women's doubles by winning the time trial by over 15 seconds with Italy in second. This put them straight through to the semi-finals, which they won by 2.39 seconds before dominating the final to hit the buzzer on the beach over 20 seconds ahead of the Italians. The crew are now looking forward to racing at the World Rowing Beach Sprint Championships next weekend.
Bear Cochrane (King's School Canterbury BC) and Ben Snoxall (Reading RC) also won their time trial in the Men's doubles. In the quarter finals, they established a strong lead but – as can happen given the unpredictable nature of beach sprint racing – this disappeared following a mistake on the final wave in challenging conditions, and they lost by just 0.4 seconds to the eventual silver medalists from the Netherlands. The experience they gained will doubtless prove useful when they race at the World Rowing event.
In the Mixed doubles, Ellie Byrne (Kingston RC) and Ben Snoxall finished fourth in the time trial while Summer Harlow and Joshua Port (Lancaster Royal Grammar School BC/Mumbles RC) were ninth. This qualified Ellie and Ben for the quarter finals, where they finished just 0.87 seconds down.
Ellie also finished fourth in the Women's solo time trial with Leah Saunders ninth. Ellie went on to win her quarter final very comfortably before losing out to the Spanish sculler in the semi-final. She was placed fourth overall after finishing second in Final B behind the Czech.
In the Men's solos, Bear Cochrane finished fourth in the time trial with Joshua Port fifth, just 0.33 seconds behind him. Both then lost out in their quarter finals.
Lead Coach Tom Pattichis said, "Overall, this was a really good learning event leading into the World Rowing Beach Sprints for the U19 members of the team and it also some good racing opportunities for the Worlds spares."
You can check out the full results here and watch back the full competition live stream here.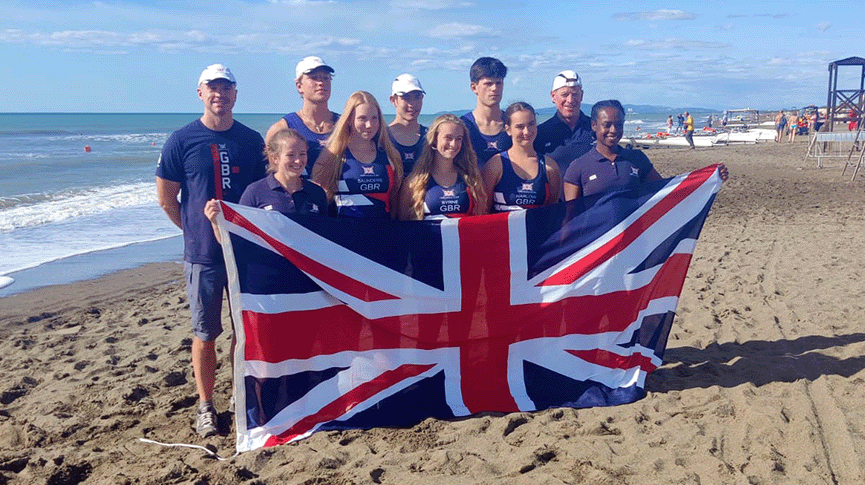 Looking ahead to the World Rowing Beach Sprint Finals
The GB Beach Sprint Team will be competing at the World Rowing Beach Sprint Finals in Bartletta, Italy from 30 September to 1 October.
Part of the team have been training at the Weymouth and Portland National Sailing Academy – home of the GB Sailing Team – in preparation.