GB Rowing Paralympic boats all qualified for Paris 2024
Great Britain featured in three races at the World Rowing Championships in Belgrade, Serbia today
In the Paralympic boat classes, Benjamin Pritchard in the PR1 Men's Single (PR1 M1x) and Annie Caddick and Sam Murray in the PR3 mixed double sculls (PR3 Mix 2x), qualified their boats meaning Great Britain has qualified all four of its boats for the 2024 Paralympic Games.
In the Olympic boat classes, the Women's Eight (W8+) were the last GB boat to secure a spot in the A Final joining the seven other Olympic crews who will race A finals across the weekend.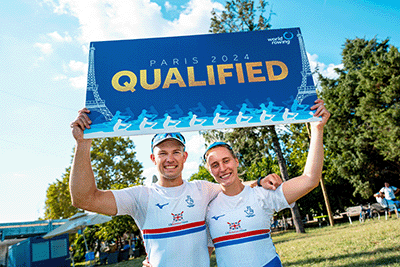 Annie Caddick and Sam Murray, having only begun rowing together this season, put in one of their most commanding performances to finish fourth in the PR3 mixed double sculls final and get the boat on the trailer to Paris. A slightly lost for words Sam said: "Wow! The boat is going to Paris! This was a hard race with only five qualification spots where no one wanted to finish last and miss out, so that was huge motivation for us. We've built on through this regatta and were pretty close to making the podium so are confident that we can keep improving with another full cycle of training under our belt!"
Annie added: "I'm so emotional and tired and think it will take some time to sink in!
We were focused on just getting that fifth place and suddenly you look over and we've overtaken more people and crossed the line in fourth. It's overwhelming, especially knowing that all our friends have qualified their boats as well, it makes it even more special."
2022 World bronze medallist Benjamin Pritchard continued his comeback in style with a comfortable win in the PR1 men's single sculls (PR1 M1x) semi final which also qualified the boat for the 2024 games. Benjamin said: "I haven't qualified myself, of course, as I still have to go through the trials process, but it was good to secure GB a spot in the PR1. It was pretty tough, that headwind was relentless and Marcus (Germany) gave me a good run for my money. I went pretty hard today, that's for sure. It's pretty special to get Great Britain another slot at the Paralympics when your teammates have already done the job, and we wouldn't be able to do what we did if it wasn't for the National Lottery players. The people that buy those tickets every week – so thank you for those guys – hopefully we can make you all proud in the final too!"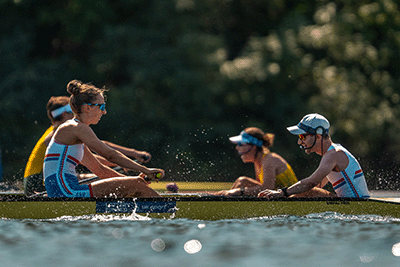 The Women's Eight (W8+) of Natasha Morrice, Rebecca Edwards, Lauren Irwin, Karen Bennett, Emily Ford, Esme Booth, Hattie Taylor, Annie Campbell-Orde and cox Henry Fieldman led their repechage for much of the race but were pipped on the line by Australia, to take second place by just 0.05. After the race, Hattie said: "That was much better than our heat. We were trying to change a few things from the start and through the middle and I think we managed to execute what we wanted to. It was a very close race, we could see them coming on us and at the line we weren't sure who'd finished first. We did think that maybe they'd just pipped it but we will try and turn it around for Sunday. Overall, lots of positives from that performance."
You can follow the World Rowing Championships live across British Rowing social media channels, here on our World Rowing Championships hub and on the World Rowing website. The BBC will be covering this weekend's finals as follows:
Saturday
BBC iPlayer for all finals live from 12pm (commentary from Katie Smith and Jess Eddie)
BBC2 1pm (with Matt Pinsent and Katherine Grainger in the studio).
Sunday
BBC iPlayer for all finals live from 12pm (commentary from Katie Smith and James Cracknell)
BBC2 3pm (highlights with Matthew Pinsent and Katherine Grainger in the studio).
Results from Day Six at 2023 World Rowing Championships
Boat:

PR1 M1x
Benjamin Pritchard (City of Swansea RC)

Race:

A/B Semi Final

Time:

09.21.76

Result and Progression:

1st → A Final
Boat:

PR3 Mix2x
Annie Caddick (Molesey BC)
Sam Murray (Molesey BC)

Race:

A Final

Time:

08:29.59

Result and Progression:

4th overall
Photos: Benedict Tufnell.