Celebrating GB's wonderful women
A shout out to the female British coaches – as well as some of the coxes and rowers – who have had well-deserved success at this summer's top competitions
The GB Rowing Team is passionate about its 'one team' value across the men's women's and para squads. All have enjoyed a great season this year – at senior and age-group level and in classic and beach sprint formats. Amongst these, there have been some particularly notable achievements across the board by GB women.
A beach sprint first
Despite being an island nation with a thriving rowing community, GB hadn't yet won a major international title in the relatively new, exciting discipline of beach sprint racing. All that changed in August when Evelyn Pakule – coached by Yewande Adesida (both from Lea RC) won our first ever international beach sprint gold medal at the European Rowing Beach Sprint Championships in U19 Coastal women's solos. Many congratulations to both – it was wonderful to see this all-female coach-athlete combo lead the way to the top of the sandy podium in beach sprints.
Evelyn also notched up the England beach sprint team's only win at the recent Home International Rowing Beach Sprints, again in the Junior women's solos. Women were also appointed to all but one of the roles in England's support team for this regatta. These included Team Manager Rachael Ball (Emanuel School BC), Safeguarding Officer Lucy McNulty (Molesey BC), Lead Coach Lucy Hart (British Rowing), Beach Coordinator Bekki Bradley (Coastal Rowing Academy Club), Umpire Heidi Hackett (The Grange School RC) and Team Delegate Eira Parry (Walton RC).
Classic rowing coaches riding the crest of the wave too
Coach Nicola Benavente, who moved to the Para programme earlier this year after eight years as a 'Start' coach (and famously taught Tom Daley to row for Comic Relief 2022!), has had a stunning first season in her new job.
Nicola coached two of the GB Paralympic-class crews – the PR2 Mixed double scull and the PR3 Mixed coxed four – to gold medals at the World Rowing Championships in increasingly competitive events.
At the World Rowing Under 23 Championships, Helen Brown, GB Rowing Team Performance Transition Coach – Sculling helped the Women's double scull of Vwairé Obukohwo and Katherine George to step up from the bronze they won in 2022 to take the silver medal.
This was Helen's first U23 World Championship medal; a significant moment to savour in her coaching career.
Also in the age group teams, both of the women selected to coach crews for the World Rowing U19 Championships – Helen Taylor from Molesey BC, who coached the Women's four, and Bethan Thomas from Kingston Grammar School, who coached the Women's quad – took home medals for their work. They follow in the footsteps of only a small number of other British women who have coached crews to medals at World Junior level including former Kingston Grammar School coach Louise Kingsley, who is now Director of Performance for the GB Rowing Team.
Rounding off the age group teams, Florence Griffiths (Surbiton High School) coached the Women's Eight to win gold medals on both days at the Coupe la Jeunesse.
A coxing first
Another first this year was when Natalia Toms of Royal Shrewsbury School BC became the first British woman to cox a GB Men's crew at a World Championships in any age group since World Rowing removed the rule requiring coxes to be the same gender as their crew at international competitions in 2017. Natalia coxed the U19 Men's eight to victory at the U19 World Championships, having also won with them earlier in the season at Munich International Junior Regatta.
Other women on top of the World
At the recent senior World Rowing Championships Emily Craig and Imogen Grant retained their Lightweight women's double sculls World title, after taking gold in a race that they dominated from start to finish, continuing their unbeaten run since the delayed Tokyo 2020 Olympic Games, and qualifying the boat for Paris 2024. Emily and Imogen retained their European title this year too, and set a new World Best Time for the event at World Cup II.
But perhaps an even greater cause for celebration – simply because it's been so long coming – was Lauren Henry, Hannah Scott, Lola Anderson and Georgie Brayshaw's win in the Women's quad – GB's first World gold medal in that boat class since 2010.
The quad's superb performance also qualified the boat for Paris 2024.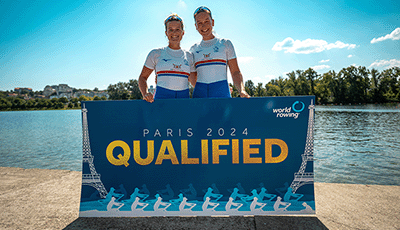 And finally, a hugely impressive feat at the World Championship was Esme Booth and Emily Ford's achievement in qualifying two boats for the Olympics – the Women's Pair and Women's eight – the first British women to do this. With the W4- also qualifying, GB has a total of five women's boats with places secured for next year's Olympic Games.