Rowers relish the waves at British Rowing Offshore Championships
Coastal scullers from all over England, Scotland, Wales and Jersey wowed spectators as they worked with the waves in Exmouth from 28-29 July
Conditions were widely acclaimed as perfect by competitors across the two days of racing, which certainly didn't mean the mirror-flat calm that classic rowers hope for. Instead, there were breaking waves on the beach at the start, and significant white horses out on the course, but they were all perfectly sized to provide the fun, excitement and challenge that coastal scullers love.
Racing began with the long-format Offshore Championships, first over 4k for the Eliminators for the Open and Women's coastal solos plus the new Mixed Ability event for mixed coastal coxed quads containing at least one sculler classified in British Rowing's AR3-PD – Adaptive Rower (Sliding Seat – Physical Disability) category. The winning crew in that event was one formed through the adaptive and coastal communities working together, a composite of Coastal Barbarians and Stratford upon Avon BC, featuring Thomas Doherty, Andrew Morris, Ali Martineau, Kath Coleman-Jones, and coxed by Robert Parsons.
Silver went to Mayflower Offshore RC, while a far-reaching composite of Exeter RC, Exmouth RC, Fishguard and Goodwick Jemima RC and Llandaff RC, featuring two adaptive rowers rowers, finished third. A big thank you to the clubs who trained for and contributed to this inaugural event.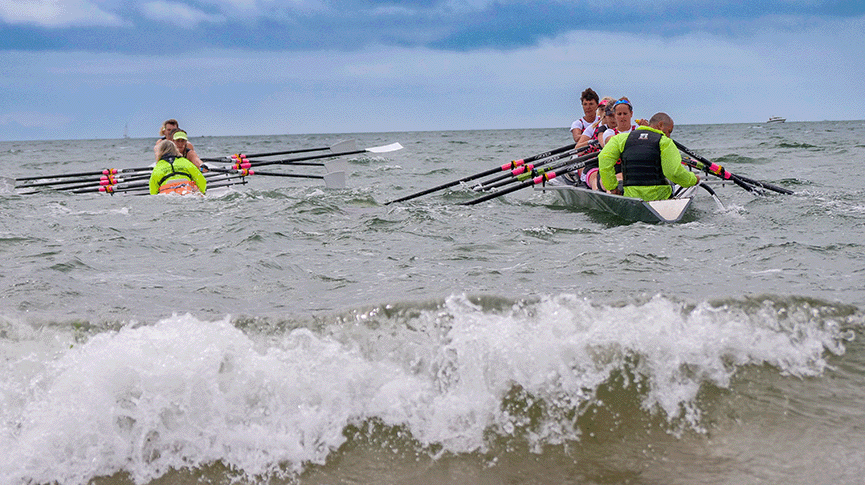 The other 11 finals were all raced over the full 6k course. With many coastal clubs still being small but friendships strong, there were lots of composites amongst the doubles and quads competing – 11 medals went to crews made up of more than one club.
Following form, Charles Cousins, racing as Mumbles RC, won the Open Solos by nearly 30 seconds from clubmate and fellow 2022 GB Beach Sprint team mate Bo Hughes. Even more impressively, Laima Pacekajute of Jersey RC (the fastest GB woman at last year's World Championships, placing 9th overall) won the Women's solos by nearly three minutes from Rachel Palmer of Teign Scullers after nearly 42 minutes of racing.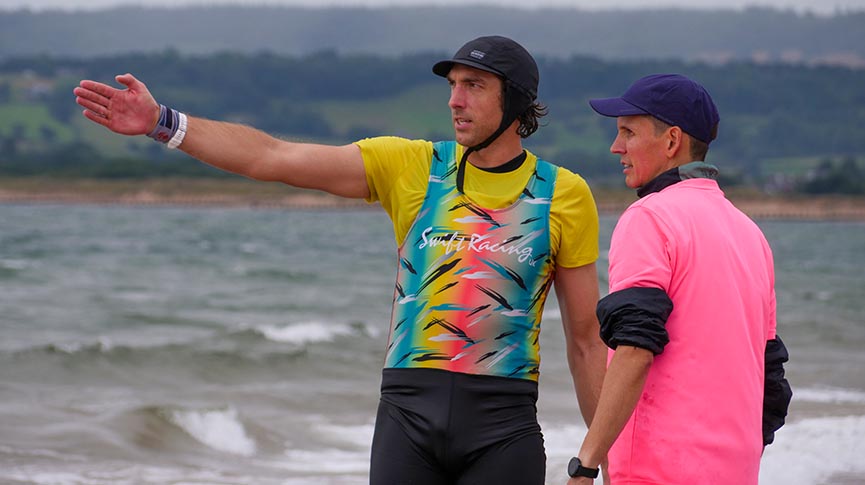 Anna Childs, Marie Guingouain of Exmouth RC won the Women's doubles, while Jon Osborn of Eastbourne RC and Tony Burrows of Herne Bay ARC took the gold medal in the Open doubles.
In the Mixed doubles, gold was won by the Mumbles RC/Upper Thames RC composite of Charles Cousins and Ruth Siddorn in a time of 32:07.05, with silver being awarded to the Glasgow RC / Leander Club composite of Sam Scrimgeour and Laura McKenzie. The tables turned in the beach sprints on Sunday, where Scrimgeour and McKenzie excelled in the shorter distance event, pressing the red buzzer first and winning gold, with Cousins and Siddorn taking the silver.
In the senior coxed quads, the University of Saint Andrews crew were the victors in the Open category and  Jersey RC won both the Women's and Mixed events. A composite from Coastal Barbarians/Eastbourne RC/Herne Bay ARC and Jersey RC won the Open Masters coxed quads, and Coastal Barbarians took the Women's and Mixed events.
All in all 22 clubs from across the UK picked up medals, with the Studland-based club Coastal Barbarians taking home nine medals in total, followed by Jersey RC with seven and Mayflower Offshore RC with five.
Other notable wins came from Eastbourne RC, Exmouth RC, Herne Bay RC and Mumbles RC, with each club picking up three medals from across their composite entries.
full Offshore Championships results
Sarah Gregory, Chair of the Organising Committee said, "We're delighted with how the whole weekend went, and to see more scullers and spectators enjoying this form of rowing. We're particularly grateful to Exmouth RNLI for allowing us to use their boathouse, as well as to Exmouth RC for use of their equipment and enormous amounts of help from, their members as volunteers, and to all of the clubs who lent boats to others for the Coastal Championships and particularly Bob Cottell from the Coastal Rowing Centre."